Suffice to do only three things in order to make our eyebrows look the way we want them to: shape, fill-in and set with a gel.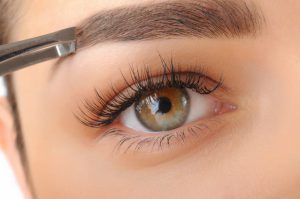 Eyebrows have a great influence over the overall look of a face. They decide on face's shape and work as a frame of eyes. In order to correct eyebrows, we have to shape them first. Put one tip of a long and thick item to a side of your nose and the second tip to inner and then outer corner of eye (to measure length of eyebrows) and to outer part of the iris (in order to mark the crease of eyebrows). Mart the spots with dots and trace them to create an outline of your new perfectly shaped eyebrows. As it is not hard to guess, hair located outside the outline has to be removed. Now, you can fill in the eyebrows.
How to fill in eyebrows?
Start from combing eyebrows towards temples. Only then will you be able to see spots requiring camouflage. Now, choose a cosmetic which you are going to fill-in the eyebrows with. Depending on the number of 'empty spots', you can use either an eye brow shadow, an eye brow pencil or other special makeup products. Basically, it would be easier for you if you use a small brush that is cut at angle. It is made of stiff and densely arranged bristle which facilitates beautifying eyebrows. Do not forget to define the lower line of eyebrows. To do it, apply a cosmetic that is brighter than eye shadows. Moreover, apply a luminizer or a highlighter right below the lower line of eyebrows just to make eyes look optically bigger. At the end, comb eyebrows and fix them with either a gel, wax or with a colourless mascara.
Eyebrow colour cosmetics.
Eyebrow pencil. Although, it is very precise item, it could be very difficult to wield by people who just begin their journey with makeup. If you use an eyebrow pencil, do not press it to hard against skin. Remember to smudge it with your finger or a brush afterwards. You can also try to draw small hair with it. In this case, try to draw them one next to the other – the new hairs have to be of equal length.
Eyebrow shadows. Pick only matte shadows of cool tones. Apply them with the use of either a round and soft brush or the one cut at angle. You can also try to obtain three dimensional effect and cover eyebrows with two shadows. If you would like to obtain more intensive colour, apply the shadows wet.
Eyebrow tints. This is the most professional cosmetic for eyebrow correction since it provides very realistic effect. Application of eyebrow tints requires a little bit of experience, yet if applied properly, they fill-in all blank spaces just perfectly. Before putting on the product, eyebrows have to be powered. The powder has to be applied 'against the nap'. Remove its excess when it happens that too much of the cosmetic have been applied.